Mark, Aleni and Lani De Viate
Fetish Performers and Educators...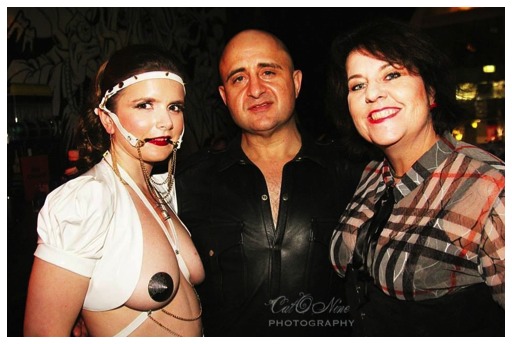 Mark
, Master of DV8house has an international profile resulting from his own unique style of Japanese suspension bondage performances. He is a well known educator, performer and rigger in Australia, as well as New Zealand, USA, Europe and Japan. Mark has worked and performed with many international performers and accordingly honed his skill to a very high level of professionalism. Over the years Mark has taken many an inspirational trip to Japan to rig alongside his friend Osada Steve and will continue to do so in years to come.

By his side you will find his slave
Aleni
, a Mistress in her own right, whilst living in a polyamorous relationship with her Master of over 12 years. An educator, with a strong interest in the arts, community, general debauchery and women's groups, supporting all where possible.

On his other side you will find
Lani
. Mark's flygirl, who loves performing with him or just being bound in his web.

In all, a dynamic mix of personalities in this polymorphic house will provide you an experience you won't soon forget...

___________________________________________________________________________

DV8House is proud to be an exclusive distributor of genuine Osada Steve's Original Shibari and Kinbaku Jute Rope. It is available in natural, red and black and is the same rope used by Mark and also the top rigging professionals in Japan. Please visit our
eBay
shop to add some to your collection today.